Kawhia Good News
Highlighting the Positive Happenings in Kawhia
Farmer's escape before car plunge
BY BELINDA FEEK - Waikato Times - Saturday, 27 May 2011
PETER DRURY/Waikato Times
A Kawhia farmer who swerved his car to avoid a herd of goats ended up teetering precariously on a washed-out cliff edge.
Paul Stephenson instinctively scrambled out his passenger door to safety after the accident on State Highway 31.
It was only then the reality sank in of just how close he came to going over the 50-metre drop.
Mr Stephenson had been heading back to his Kawhia Rd home in his beloved SV8 Holden when he rounded a bend about midnight on Wednesday, and was confronted by the herd of goats scampering across the winding road.
Just ahead the road had been washed out three months ago, leaving half of the eastbound lane collapsed down a bank.
"I knew there was a washout, because I travel the road every day. I thought I would swing around the goats and then thought 'oh the road's washed out there'. As soon as I hit the cones I thought 'oh I'm f***ed'."
Fortunately the car came to a halt, if a somewhat hairy one. With the right side of the car hanging over the edge, he clambered out the passenger door.
"It wasn't too bad, it wasn't on too much of a lean then. I'm glad I had no passengers, like my missus. She would have had a heart attack."
His Holden remained on the cliff edge overnight, and was still perched there when Williams Salvage arrived at the scene yesterday.
However, just minutes before Mr Stephenson returned to the crash site on a tractor, about 11am, the road gave way just a little more and the car rolled to a crumpled heap halfway down the cliff bank.
"Damn," he said, after peering down the cliff. "I just spent about $4000 on it, and just filled up the gas."
Mr Stephenson knew he would now get a bit of "stick" for his peculiar parking spot.
"I'm going to get all sorts of shit now," he said.
Almost every motorist who drove past the site slowed and peered, some suggesting Mr Stephenson should take a Lotto ticket, and a truck driver and construction staff stopped to take photos on their cellphones.
It also caught the eye of Bill Rogers, of the nearby Oparau Store, who phoned it in to police after spying it about 5.30am.
The accident came at the start of a deluge of rain during which parts of the Waikato and Coromandel were flooded, causing one serious accident.
An elderly woman suffered serious injuries after she drove into a 12-tonne pine tree which had fallen across Purangi Rd at Cooks Beach just before 5pm yesterday.
Hahei fire chief Ian Carter said that if the tree was any higher off the road it would have gone through the windscreen of their Ford Fiesta.
The area experienced high winds, about 50 to 70kmh between 4pm and 5pm, Mr Carter said.
Surface flooding appeared to be most evident in South Waikato and Hamilton.
Tokoroa resident Graeme Sutherland said some parts of the Parkdale subdivision were under 600mm of water, and Manfield St had 300mm of water.
The Pinnacles on the Coromandel received 150mm of rain, Hamilton 70mm, the Kaimai range 100mm and Waingaro 40mm for the 24 hours to 6am today.
MetService duty forecaster Geoff Sanders said Waikato residents could expect slightly cooler temperatures today and into the weekend as a southwesterly took over from the moist, tropical front which was heading out over the east coast.
"There will be a few odd showers, you could get the odd heavy shower this morning and this afternoon before it will ease. Tomorrow, just a few showers, perhaps more frequent in the evening, particularly in western parts of Waikato."
- Waikato Times
Te Waitere centenary brings Tom back
By BEN STANLEY - Waikato Times - Saturday, January 9, 2010
Peter Brough was coxswain on a whaleboat on Kawhia Harbour in 1910, and 100 years later his son was doing exactly the same thing.

As the Te Waitere Boat Club joined in celebrations for the centenary of whale boating on Kawhia Harbour last week, the unlikely became reality when a spritely 93-year-old Tom Brough guided his whaleboat into the cool harbour water.

Mr Brough was one of more than 500 people at the Te Waitere whale boating regatta, the third of the centenary celebrations of whale boating on the harbour.

The Tauranga-based rowing veteran, who skilfully coxed an all-woman crew in an exhibition race, said it was a "real pleasure" and honour to be back on the harbour where he spent so many summers as a youngster.

"It was a great day, marvellously organised," Mr Brough said.

"It was great to see some of the old faces and crews ... and the weather was good too."

Mr Brough was born in Kawhia and brought up on a dairy farm that he later bought from his father Peter in the mid 1940s.

Mr Brough senior was strongly involved in whale boating through the early years of the 20th century and, as a result, Tom was a regular at his father's side out on the water.

He first rowed a whaleboat in 1936 and continued his involvement at Te Waitere Rowing Club until 1964 when a move to a sheep and beef farm at Te Anga ended his rowing career.

Until last weekend, that was the last time Mr Brough had set foot in a whaleboat.

And, even though he didn't pick up an oar himself, Mr Brough reckons you never really forget how.

"You go through the same actions and so forth.

"I'm getting on a bit so being the cox was fine by me."

At the New Year regattas on Kawhia Harbour the Kawhia Rowing Regatta Club won the 2010 Constant Cup with 10 wins, beating out old rivals Oparau Rowing Club and Mr Brough's old friends at Te Waitere.
Original boats feature of regatta
By BEN STANLEY - Waikato Times - Wednesday, December 30, 2009

DONNA WALSH/Waikato Times
In June 2008, Earthrace set a new world record for
Eco-boat visits seaside village
Waitomo News - Thursday, June 4, 2009
COOL CRAFT: (above) Kawhia Primary School students get on board the world's fastest eco-boat, Earthrace last Wednesday. They are pictured with crew member Andy. Photo: Davis Apiti
MONSOON conditions and pirates were some of the obstacles
overcome by the Earthrace crew in their record breaking race around the world.
Skipper Pete Bethune and his crew docked at Kawhia Wharf last week, sharing their experiences aboard the New Zealand built 100% carbon neutral power boat with local residents and visitors.
Mr Bethune visited Kawhia Primary School speaking to students about the boat and recounting the crew's "amazing and sometimes terrifying adventures."
Students from Kawhia, Kinohaku and Taharoa schools learned about the 24 metre trihull eco-boat.
Kawhia Primary School acting principal Leanne Apiti says Mr Bethune's visit and visiting Earthrace was "an awesome experience for our students."
"It was really amazing for the crew to come to Kawhia and for the children to learn all about the boat and the crew's trip around the world."
In June 2008, Earthrace set a new world record for a powerboat to circle the globe, and she did this with 100% renewable biodiesel fuel, and a net zero carbon
footprint. The voyage was more than 24,000 nautical miles and took 60 days, 23 hours and 49 minutes, smashing the previous Britishheld record by more two weeks.
In the afternoon, students from the three schools joined a large crowd at the wharf to view the world's fastest eco-boat up close.
"The children were able to tour the boat and sign their names on a wall with hundreds of other people from all around the world," says Mrs Apiti.
"It was fantastic that they stopped at Kawhia. "It bought a lot of people into
the village for the day."
The aim of Earthrace's nationwide promotional tour is to connect with people and encourage debate and understanding about biofuels and carbon footprints. www.earthrace.net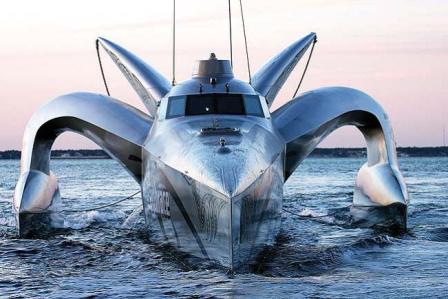 Left: Earthrace is a nationwide tour to educate peopleabout biofuels and carbon footprints.
Salvation at hand for Kawhia church
By DENISE IRVINE - Waikato Times
9 May 2009
Kawhia's graceful white Methodist church has occupied the high ground above the coastal township for nearly 75 years, but in recent times it has looked like a lost soul.
The driveway is barely visible amid the weeds and rogue plants that stand tall around the building, the clay tile roof has leaked, the wooden pews have lost their sheen, windowsills have rotted, and cobwebs hang from the ceiling beams. The bell is silent in its quaint tower, no longer signalling the Sunday services.
Somehow, the church remains strong and beautiful on its hilly site, shrugging off the hardship, and recently it looks to have found salvation in the form of a community group determined to restore it, and build an adjacent hall, providing something special to celebrate for the church's 75th anniversary on November 24.
On Monday morning this week, about eight group members gather to talk about this treasure, and the plans for its future. In a time when dwindling congregations see many small-town churches sold for cafes, art galleries and private homes, the Kawhia group is determined to keep this one alive. Project co-ordinator Nick Tuwhangai mentions there have been a couple of inquiries from people wanting to buy the church for a home; he jokes he's told them it's worth $1 million.
The Kawhia Methodist Memorial Church, to use its full title, has unique history among local Maori and its community would not want it to fall into new hands. But supporters admit it has been a struggle to look after it, with no regular minister or services for some years.
As the group talks, the morning sun filters through the elegant leadlight windows and the stained glass creates rainbows on the dusty wooden floor. The sunshine illuminates the church's beauty, and its neglect, but for an hour or so it is alive with people, and hope.
Churches are as much about personal history as they are about bricks, mortar and funding, and today there are plenty of memories. Bessie Porima has had a long association with the church; she sits in a pew with her daughter Hinga, who married Hano Ormsby here in 1972, and Hano stands by the carved altar rail showing where he signed the register after the ceremony.
Hinga remembers attending a crowded church service a few years after her marriage when the late Maori Queen Dame Te Atairangikaahu was visiting; the church holds about 100 people but there was no room that day for Hinga in the pews. She laughs as she remembers the old people telling her to sit on the floor in the aisle.
In 2006 after the power to the church had been disconnected Hinga says a group held a candlelight service on Christmas Eve. "Everyone came up here with a candle, it was lovely."
Nancy Karena, in her 70s, was christened here, and attended the Sunday School. She looks around the tired interior, and remembers the many ministers and people who have been part of the church: "It is the heart of all of us, it hurts me to see it like this. The ministers and Maori people were all one family. When they had hymns here they used to lift the roof off with their voices."
Nick Tuwhangai, his wife Linda, John Puke and some others talk about the carvings that are a feature of the building. The Kingitanga crest Te Paki O Matariki is on the front of the pulpit, and there are carvings of the Tainui and Aotea wakas. The intricate work was done under the supervision of the late, great singer and carver Inia Te Wiata when he was a young man, and mention of this leads to the story of the church's construction.
It was built by Pikohaua Hikuroa, Linda Tuwhangai's grandfather, and his main stalwarts on the project were Inia Te Wiata and Maharaia Winiata. Te Wiata later found international fame with his singing and carving, and Winiata become a highly regarded Maori academic.
Linda Tuwhangai says her grandfather from the King Country also worked on the distinctive Ratana Temple, at Ratana Pa, near Wanganui, and on the extension wing to the Waitomo Caves Hotel in the late 1920s. Like the Waitomo wing, Kawhia's Methodist church is built of concrete, with a plaster finish.
The church appears to draw its style from the simple lines of Spanish Mission architecture, with perhaps a touch of art deco in its angles and gothic design in the stunning windows. It is not known whether Pikohaua Hikuroa designed the church, but Linda says he was multi-talented, a tap dancer, clarinettist, choir master and comedian as well as a builder.
The stories continue, and I share mine: my mother and father met and married in Kawhia in 1945, and as a child I remember being told their wedding ceremony was held at this church. But youthful memories can play tricks. My parents long gone were not Methodists, and now I'm not sure if the story is correct.
So today I have brought their wedding photograph, taken on the steps of a church. A distinctive stained glass window is visible to one side, and the heavy, grooved wooden door that Nick Tuwhangai opens for me is also part of the image. It is unmistakably the same place. Nick looks at the photo and points to the high edge of the steps where my mother's wedding dress is draped. "Even the steps are the same."
THE church - and an adjacent parsonage, now demolished - were built to mark the establishment of the first Methodist mission in the Kawhia area in 1834. The Rev William Woon arrived on the west coast that year, followed by the Rev John Whiteley, then Rev Cort Schnackenberg in 1853. The names of the three missionaries are marked by a brass plaque in the church, and outdoors there is a foundation stone laid by Maori King Koroki in 1934.
The building was opened by Princess Te Puea Herangai on March 14, 1935, and the Waikato Times reported the event: "The building is a handsome structure of ferro-concrete, the whole work being carried out by Maori workman labouring for their keep and a small weekly allowance. Portions of the interior are beautifully carved . . .
"Unfortunately inclement weather somewhat marred the opening ceremony but a large crowd was present when Princess Te Puea and Chief Tarapipi opened the double doors. Many were unable to gain admission to the church to witness the unveiling of the pulpit ...but the main service was clearly heard by those gathered outside. The whole atmosphere of today's historic ceremony was one of entire friendliness and respect between both races."
Supporters of the refurbishment hope that the church will again serve the Kawhia community, with the new hall as an extra attraction. They envisage monthly services with a visiting minister, family events such as weddings and funerals, and the hall being used by community groups.
Retired builder Don Murtagh is part of the team, and he says the concrete church is still sound. The leaky roof has been repaired, the floor will be sanded, the 16 pews rejuvenated, and there is rewiring to be done. Don has built a new concrete entrance ramp, and he will repair rotting timber. "But there is not a hell of a lot wrong with it, it will be terrific when it's finished."
Much of the work will be done by volunteers. But the biggest project the new hall, with a kitchen and toilets comes under the umbrella of the Te Taha Maori Division of the Methodist Church, and the Kawhia group has a strong supporter in retired Methodist minister the Rev Bob Short, who represents the division on this job.
The Rev Short, from Hamilton, was formerly the district property secretary for the Waikato Methodist Synod; he has kept an interest in the Kawhia situation and is determined to see it through. He was inspired by the Memorial Church's last minister, the Rev Tata Keepa, who died about three years ago: "He was a tireless worker for that community, a dynamic man with energy to burn. I guess he wanted me to take some initiative."
The property is owned by the Methodist church, and Rev Short says an adjacent section will be sold to provide base funding for the hall, a new driveway and other work. Costs have not been finalised. "The hall will be a small, multi-purpose community building that can be used for a million things, and it can be self-sufficient," he says.
Is it worth the effort? "Absolutely," says Rev Short, "we have to mark an historical site. Kawhia was the birthplace of Methodism on the west coast. I'm not going to let it beat me."
The Kawhia group says the same thing. The silent church bell is mentioned it is the one used by the first missioner, the Rev William Woon and Nick Tuwhangai says, "it will ring again, it still works".
For more information on the church restoration, or to offer voluntary help, ph Hinga Ormsby, 07 871 0880 begin_of_the_skype_highlighting 07 871 0880 end_of_the_skype_highlighting; 0275527203.
Making History is an occasional series in the Waikato Times.
NZ: Waterfront full of surprises 5:00AM Wednesday July 18, 2007 – NZ Herald
By Heather Ramsay
Kawhia's large and tranquil harbour is the spiritual home of the Tainui people and a favourite haunt of fossil hunters. Photo / Dennis Richardson
Kawhia's large and tranquil harbour is the spiritual home of the Tainui people and a favourite haunt of fossil hunters. Photo / Dennis Richardson
Blokes, eh? You never know what's going to push their buttons. I was discussing fashionable travel destinations with a couple of fairly sophisticated types, and facetiously mentioned that I was going to Kawhia for a couple of days.
Instead of the expected guffaws, one of them just about leapt out of his chair with excitement. 'Kawhia?' he exclaimed. 'Kawhia has the most amazing fossils. You can just pick them up walking along the foreshore.'
My other companion joined in with equal enthusiasm, and they launched into animated conversation sprinkled with scientific names and comparisons of great fossil-finding spots.
Maybe I didn't do enough digging in the school sandpit as a child, but fossils have never held much allure. However, in the unlikely event that I get the urge to uncover ancient remnants of life, Kawhia is definitely the place to go.
Last year, the sleepy King Country town hit the headlines when the Hamilton Junats - that's Junior Naturalists - stumbled on the intact skeleton of a 30-million-year-old penguin. It wasn't just any old penguin, it was palaeeudyptes, a giant penguin standing 1.5m and weighing around 100kg.
It seems the massive bird died and sank into the mud in the upper reaches of Kawhia's extensive tidal harbour, remaining hidden until a group of 21st-century school kids noticed a few bones sticking out of the mud. Fossils on the foreshore, just as my friend described.
Archaeologists and geologists have long recognised the significance of the area, and even to the untrained eye the landscape looks ancient and interesting. Misshapen outcrops of layered rocks rise unexpectedly from the surrounding hills, towering over the land like the ramparts of a ruined castle.
It looks like a place that could spring some surprises, and the existence of white sand beaches on the west coast is one of them. In places around the 6000ha harbour, crystalline water surges between tall stacks of pancake rocks, washing gently on to gleaming white sand that contrasts with the black-sand beaches around the rest of the harbour.
Like many things around Kawhia, you need local knowledge to find them, so we jumped aboard a harbour cruise, which revealed the beaches and upper harbour and also gave an understanding of the long history of the area.
The great waka of Tainui arrived here in the 14th century, and the region remains the spiritual home of the Tainui people. Kawhia's Maketu marae is believed to be the resting place of the ancestral canoe, said to lie under a hillock near the marae buildings.
Across the harbour, the tiny holiday settlement of Te Maika, which can be reached only by boat, was the domain of feared warrior chief Te Rauparaha, who fought his way south through Waikato and Taranaki before settling on Kapiti Island.
A walkway that weaves through town and along the harbour is another pleasant way to absorb the scenery and history. We started at the small museum then strolled along the waterfront, past people fishing and swimming in the calm waters.
Huge, gnarled pohutukawa line the way. Among them are the sacred trees Te Papa o Karewa and Tangi te Korowhiti, where it's said the Tainui waka was tied when it arrived.
Somehow we meandered off the heritage trail, although getting lost is not a problem in this tiny town. Our unplanned deviation took us through another part of New Zealand history - the bach culture of the 50s and 60s. True bach communities like Kawhia are rapidly disappearing and it's a pity that some authority can't step in and slap a preservation order on the whole town.
There's an eclectic mix of simple but much-loved beachside hideaways, with expansive kikuyu lawns bounded by gardens adorned with driftwood, stones, shells and other finds - maybe even fossils. Garden escapees like nasturtiums, morning glory, geraniums and agapanthus tumble wildly down banks in a glorious blaze of orange, purple, red and white.
Kawhia is a fishing town and a few charter and commercial boats operate out of the harbour. This means incredibly fresh fish, and every lunch and dinnertime the smell of famous KFC (Kawhia fish and chips) wafts through the town centre.

The area has always provided ample sustenance for its inhabitants, and our stay coincided with the annual Kawhia Kai Festival, which celebrates this bounty in a laidback style, with bands and kapa haka performances throughout the day.
If you're planning to go to future events, don't eat anything before you leave home. The amount of food on offer is huge, ranging from tuatua, whitebait or paua fritters to fresh mussels, hangi, boil-ups and rewena bread. I tried the delicious creamed kina stew in a pocket of fried bread and I also chewed for ages on some dried pipi, which I would kindly describe as ``interesting'.
We did throw a shovel in the boot when we went to Kawhia, but it wasn't for fossil hunting. When the harbour mudflats were exposed at low tide, we headed to Ocean Beach to dig up another of Kawhia's secrets.
Te Puia Springs bubble up on the edge of the Tasman Sea, and at low tide you can dig a soak-hole and sit in warm water that's cooled by ripples washing in from the sea. If low tide falls in the evening, you can revel in the glory of a west coast sunset from your personally designed natural spa ... and many would say that's very fashionable indeed.
Healing hands guide Kawhia youth to Hawaii
Tuesday, 17 July 2007
By Amy Thomsen

In light of a tragedy which occurred in their town on New Year's Eve, a special group of residents are taking action to protect Kawhia's youth.

Taking a pro-active approach has resulted in 19 Kawhia residents travelling to Hawaii on a cultural exchange – giving aid and learning the culture.

After the murder that "rocked Kawhia", in which a 23-year-old Te Awamutu man was stabbed to death, Kawhia resident Karen Bishop, among others, was concerned for the welfare of young people in the town.

"Everyone was talking about "poor Kawhia" and what it had done to the community," said Karen.

"But it was like – what about the young people who witnessed this, and who have lost a friend?

"Nobody seemed to care about how the youth were dealing with this, and reacting to it. That gave us more reason to do something.

"Everyone in Kawhia is concerned for the young people, but there was a group of us who were pro-active enough to do something about it."

Karen said she could feel the mood changing in Kawhia prior to that fateful night of New Year's Eve, and many residents were concerned about what the youth would do in their town during the summer.

Their concern has culminated into a youth group, where 'positive living for youth' is the main teaching.

For the past six months, Karen, Lisa Panapa and other adults have rallied together as many Kawhia youth as they could to take part in a programme run by Tauranga group Island Breeze called, 'Te Haerenga' – or 'The Journey'. This group is run by Te Ramaihiko Trust.

They soon had 30 young people who wanted to get on board, and make changes in their lives.

The group has since met once per month at various marae in the North Island, where they have had motivational speakers inform them about the effects of drugs, alcohol, gangs and other negative influences.

The group has also been learning kapa haka and mau rakau (Maori martial arts).

"We have been trying to expose them to the support that is out there for them, and link them with communities with similar issues to ours," said Karen.

"As a result, the youth have now made some real life changes for themselves."

Karen is proud to say that 26 of those who started the programme have completed it.

As a result of a lot of hard work, 11 Kawhia youth, plus eight adults and children from the group have spent 10 days in Hawaii. They returned on Sunday.

While in Hawaii, they carried out community work, giving aid and learning about the Hawaiian culture.

Staying at the Makapala Retreat Centre, they visited New Zealand's version of kohanga reo, primary schools, colleges, attend a luau, work in a soup kitchen, clean up a site ravaged by earthquakes, visit a Hawaiian church, and much more.

"The children will got to experience the culture from the ground up," said Karen.

"But the biggest thing for me, and for many people, is that they went to the place where the canoes came from.

"That is of huge significance to us, especially having the Tainui waka here in Kawhia."

The residents who have made this trip are aged from 2-60 years.

"It's that whole intergenerational thing – whanau – a true reflection on the Maori culture," said Karen.

The group travelled with other Island Breeze members from Tauranga, Auckland, Tokoroa, and places in between.

Karen said the trip has been a huge feat for the Kawhia group, and as a collective, they raised $30,000 – without any public funding.

"We have done everything from having stalls at the Kai Festival, mowing lawns, holding hangi, sausage sizzles, and we have had some very generous koha donated to us," she said.

"We held a hangi night in Auckland, and raised $9500 there.

"We then had one in Kawhia, and raised another $3500 .

"More than 100 people came – they really got out and supported us. It was huge.

"And it was really good for the kids to see that. They needed to see that from their community."

She said setting goals and seeing them through has all been part of 'the journey'.

"A lot of the people going to Hawaii didn't even have passports, or hadn't been on a plane before, so even those things have been a mission," said Karen.

"It has been an amazing experience. We've all had to work together…cry together…it's been a step-by-step process.

"It's been challenging, but really exhilarating."

Following the group's return, they will have a final debrief in Tauranga.

"It's just been so successful, that we're not giving up after we get back. We're going to keep this up," said Karen.

She said there are a lot of people working with youth in Kawhia – the only difference being that their project has had an overseas component.

"I couldn't sit here, and say it's just been us," she said.

"It has been the work of the whole community. It truly does take a village to raise a child.

"We are all responsible for our youth, and we care about them and want to see good things happen to them.

"Let's look high, and make it work."
Students shoot to save dolphin
Waitomo News, Thursday, 05 July 2007
By Amy Thomsen
Kawhia ... children are walking the talk when it comes to helping save the Maui's dolphin.
BUDDING ENVIRONMENTALISTS: Kawhia...'s Maui's dolphins basketball team. (Clockwise, from back) coach Wayne Whiu, Troy Stafford, Te Auripo Whiu, Te Mihinga Whiu, Kotuku Whiu, Sarah Apiti, Kawharu Apiti and Aotea Apiti.

The .... first ever basketball team have named themselves the 'Maui's dolphins', and their promotion efforts have seen them receive sponsorship from Forest and Bird.

The Maui's dolphin is the world's most critically endangered mammal, and its existing numbers are believed to be just 11.

Forest and Bird, in collaboration with Kawhia and Aotea residents have been campaigning for a sanctuary to be established on the West Coast.

Now nine school [aged] children aged 8-12 years have joined the battle, promoting saving the species, while playing a sport they love.

Team co-ordinator and father of three Maui's dolphins team members Davis Apiti, contacted Forest and Bird, suggesting the children help the campaign.

In return, Forest and Bird sponsored the team's t-shirts, printed with dolphins and a website address that links to the marine sanctuary proposal.

Players will also distribute flyers at their Hamilton matches.

Mr Apiti said protecting the Maui's dolphin is vital for the region, and the next generation.

"The kids know the dolphins are in danger, and that the issue is a big one," said Mr Apiti.

"And they are happy to help promote it. It's the only solution.

"The protection of the dolphin will benefit their generation – not ours. It's too late for us, we blew it, so who better to carry it on?"

A ban on set netting along part of the West Coast has been introduced to aid Maui's dolphin protection, however other threats to their survival include trawl fishing, boats, sand mining and rubbish.
Seaside town inspires journalists
By Amy Thomsen, Waitomo News, July 2007
As community newspaper journalists, we meet incredible people on a daily basis – it's one of the perks of the job.

And Thursday of last week was no different from any other day in that respect for three Waitomo News staff.

Myself, fellow Otorohanga journalist Kylee Bruce and Wintec journalism student Emma Pottinger headed out to do a 'story blitz' at Kawhia.

We had arranged five interviews, with the aim of giving Kawhia the coverage it deserves – and do it all in one day.

While there, we were completely uplifted by the amazing community spirit Kawhia residents possess.

We had the privilege of meeting fantastic people of all ages, races and beliefs – from RSA members to parents, grandparents, teachers, St John Ambulance officers, primary school aged children, teenagers and farmers.

From interview to interview we travelled, and everywhere we went the people were happy to see us, and so proud of what their community was achieving.

At no stage were we disappointed with the passion of the people in the Otorohanga district's little West Coast village that is Kawhia.

While we were there to see all our 'interviewees' about completely unrelated stories, the five articles to follow in coming editions of the Waitomo News all relay the same message – selflessness.

From the six RSA members (with an average age of 73) who built a memorial wall for the town's cemetry, to the three lone St John volunteers who have won a regional award, to the Kawhia Primary School children who have created their first ever basketball team, all the while promoting the protection of Maui dolphins – these people are all doing something, for the love of their town.

A common view among all the adults we spoke to in Kawhia was not only pride in their community, but that everything they do to improve the town is for the next generation – not themselves.

These people all want the youth of Kawhia to feel the same pride that they have felt in their roots and where they come from.

On behalf of the three of us who visited on Thursday, I would like to say thank you to all the people we met for uplifting our spirits, and perhaps teaching us a little lesson.

When you witness this sort of passion among people, you can't help but want to share it with others.

Kawhia, you are truly a beautiful jewel in the crown of the Otorohanga district. Keep shining.
The long road back from heartbreak
Tuesday, 22 May 2007, Waitomo News
By Kylee Bruce

PROUD PARENTS: (above) Roy and Bev Bye of Kawhia are proud of the achievements of their son Kerry pictured with his English fiancé Natalie Pettit. Kerry recently became a fully registered anaesthetic technician and received a prestigious national award.
It is the ultimate case of 'from tragedy to triumph'.
On May 14, 1997 Kerry Bye's world was torn apart when a car accident near Te Kawa claimed the lives of his wife Wendy (27), and daughters Amelia (6) and Tara (18 months).
In a Waitomo News article 'Survivor asks "why?"' published on May 20, 1997 Kerry was every inch a broken man.
"At first I didn't care whether I lived or died wondering why I was left," he said.
"I don't think I could ever get close to, or love anyone again …"
Ten years on and 39-year-old Kerry has a new lease on life.
He recently completed qualifications in anaesthetic technology and became a registered anaesthetic technician, won a prestigious national award and will travel to England to be with his fiancé, Natalie Pettit.
Kerry's parents Roy and Bev Bye of Kawhia, are thrilled by their son's accomplishments during the past decade.
"We are over the moon with his achievements," said Mr Bye.
However both admit they were initially worried their son would not move on from the tragedy.
Having grown up in Kawhia, Kerry was educated at Hauturu School, Oparau School and Otorohanga College. After leaving school he played club rugby for Otorohanga and worked fulltime at a local timberyard.
Following the death of his wife and children, it was the support of the community that helped Kerry through the mourning process.
"It was definitely the locals that bought him out of that," said Mr Bye.
Kerry spent the next period of his life travelling back and forth overseas, spending time in Australia and Europe.
"He was a lost soul for about five years," said Mrs Bye.
When he returned to New Zealand Kerry settled in Whakatane where he began working as an orderly at Whakatane Hospital and spent his spare time surfing and diving.
Eventually he decided to undertake an anaesthetic technician trainee-ship.
"He was talked into it by the anaesthetists," said Mrs Bye.
His parents admit they were surprised by his new career path.
"It was just one 'out of the blue' with him," said Mr Bye.
"He came out of the bush and into the hospital."
Kerry worked and studied for the past five years to complete the necessary qualifications, with colleagues at the hospital helping him in every way they could.
"The doctors and staff at Whakatane Hospital were absolutely wonderful," said Mrs Bye. "They were wonderfully supportive."
On January 15 Kerry officially received his Certificate in Anaesthetic Technology from Auckland University of Technology.
Posting impressive exam marks such as 98.5 per cent, he was also selected to receive the New Zealand Society of Anaesthetists' prize for 'Most outstanding Certificate in Anaesthetic Technology student for 2006'.
With the award ceremony on May 11, coinciding with a major exam in Palmerston North, Mr and Mrs Bye travelled to Auckland to accept the award on Kerry's behalf.
Mr Bye, who was diagnosed with bone cancer about 14 months ago, said accepting the award and witnessing Kerry's other achievements have definitely been his proudest moments.
"I may not be able to live long enough to see his wedding but to me this is just as good," he said.
Meanwhile Kerry aced his recent exam – which required him to fix faults in a manual anaesthetic machine, answer verbal questions and complete a written test – meaning he is now officially registered as a trained technician by the New Zealand Anaesthetic Technicians' Society.
"He said it was the most nerve-wracking thing he had ever been through," said Mrs Bye.
At the end of the month Kerry plans to travel to Worcestershire in England to be with his fiancé, Natalie. Currently in medical school, Ms Pettit has 18 months of study left to before she becomes a qualified doctor.
With their wedding expected to be held around Christmas, Mr and Mrs Bye said they believe the couple will eventually return to live in New Zealand.
So while Mr and Mrs Bye remain philosophical about life's hardships, "Your have your ups and downs, and downs and outs," said Mr Bye, and they remain in awe of their son's determination to succeed.
"We are very proud."
Amateurs stumble on big discovery
12:00AM Sunday February 19, 2006
By Miles Erwin
It was a time when giants roamed the earth. Giants like the palaeeudyptes, a 1.5m-high penguin - the 40 million-year-old remains of which have been found near Kawhia, an hour's drive south of Hamilton.

The remains of this giant bird were found last month by Tony Lorimer who stumbled across the find while on a trip escorting the Hamilton junior naturalists club.

Dwarfing the huge emperor penguin, the palaeeudyptes would have cut an imposing figure across the Waikato landscape.

It seems to have died on the foreshore and sunk into the mud at a time when much of the area was just small low-lying islands.

"Two of us were walking along when we almost banged heads going for a look and realised they were bones," Mr Lorimer said.

Ewan Fordyce, associate professor of paleontology at Otago University, said the find was extremely significant.

The bones may now become the showpiece of a small museum run by the Hamilton junior naturalists club. But Alan Tennyson, curator of fossils at Te Papa, said the fossil was a national treasure and should be somewhere where it could be appreciated by everyone.

- HERALD ON SUNDAY
Waka shows rangatahi the way
Waikato Times, 17 October 2003
By JON STOKES
AN eight metre waka built to teach rangatahi (young people) their seafaring history was launched at Maketu in Kawhia this morning.
The tipairua, a traditional double-hulled waka, was designed by Waikato University senior tutor Hoturoa Barclay-Kerr and built by the Coromandel's Gary Dierking, an expert in sailing craft of the Pacific.
Mr Barclay-Kerr said the waka would be used by the Te Toki Voyaging Trust to teach young people traditional sailing methods.
"Sailing is part of our history."
He said students would learn skills including navigation, waka building, astronomy and predicting weather.
"These were the skills of our tupuna."
The waka was launched from the spot where Tainui's tupuna first landed hundreds of years ago.
Mr Barclay-Kerr said there were plans to build a 20-metre version for long-distance voyages.
"It will be the Spirit of Adventure for Polynesians."
Thanks Kawhia
(Letter to the Editor, Waitomo News, 09.01.2003)
My family and I wish to give recognition to the Kawhia people and others involved with the fireworks display on New Year's Eve. You gave so much pleasure and enjoyment to both young and old, turning out this event over the years, and we hope that you will be able to continue doing so for years to come.
Well done Kawhia, a small community with a big heart.
Frequent Visitors
Otorohanga
Kawhia's whaleboat regatta
(New Zealand Herald, 20.12.2002)

Hard-working marine antiques hit the water at Kawhia on New Year's Day for the annual racing whaleboats regatta, held since 1910.
The whaleboats date back to racing in Auckland in the 1880s, and four boats from that era still race in Kawhia alongside replicas of the five-oared craft.
Nine races are held on the day, beginning at 10am, with plenty of carnival-style activities on land near the Kawhia Wharf.
A similar race with the whaleboats runs on December 28 from 1.30pm, at Te Waitere, on the Waitomo side of the harbour.
Contact: regatta secretary Sandra Drummond
(07) 8710822 begin_of_the_skype_highlighting (07) 8710822 end_of_the_skype_highlighting
Kawhia berthage fees scrapped
(Waitomo News, Tuesday, August 12, 2002)
Non-commerical boat owners will no longer have to pay annual berthage fees at Kawhia's wharf.
Boat owner Jack Murch wrote to the Kawhia Community Board, objecting to the $250 fee because he only used the wharf about six times a year, which amounted to more than $40 for each occasion.
Mr Murch was happy to pay $5 per day when he used the wharf.
However, the community board decided to scrap the fee entirely after Ralph Hamon said it was hard to justify and the fee wasn't worth administering.
Councillor Fiona Scott said metering the water would indicate how much the facility was being used.